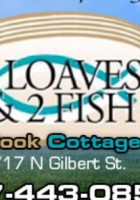 Own this business?
Danville, IL Christian Book Store
5 Loaves & 2 Fish Book Cottage
Are you feeling lost and a little confused, but know there is a better path in life
5 Loaves & 2 Fish Book Cottage is your source and spiritual guide for a better tomorrow.
Filled with books, Bibles, music, gifts, children's books and games, you are sure to find our store a destination worth looking into. Come and explore our store and your faith.
"[Jesus] Taking the five loaves and the two fish and looking up to heaven, He gave thanks and they all ate and were satisfied." (Matthew 14:19-20; Mark 6:41-42; Luke 9:16-17)
Explore the store…
What ever you may be searching for to deepen your faith, we have a supply of books, Bibles, music, gifts, children's books, games, and so much more. You can think of us as your place to get away from it all. For those tough to find items, stop by or request a special order to see if we can serve your needs.
Explore your faith…
Are you in church leadership? Are you a pastor, minister, deacon, Sunday school teacher, or desire to continue your study of the Bible? Our helpful staff can be your link to numerous Bible translations and study materials. We can also be your resource for Church supplies, Sunday school curriculum, and reference materials!