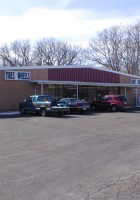 Own this business?
All SOURCE SERVICE
Your one source for Tools and Equipment Rentals & Sales, Hardware, Auto Repair and Maintenance, Tires, Car Stereo and Video, Auto Body Collision Repair, Used Cars, Trucks & Trailers, 4×4 Lift Kits, and Much More!
All SOURCE SERVICE offers rental equipment from small tools to large outdoor equipment. We also offer delivery service.
All SOURCE SERVICE equipment sampling, we have the following available – and much more. Call for that hard to find rental.
We also sell some of our used rental equipment occasionally.
12078 U.S. Rt. 150 ~ Oakwood, Illinois 61858 @ Intersection of I-74 & Rt 150 ~