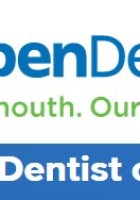 Own this business?
About the Danville, IL Dental Office
Owned and operated by: I F Hamati DDS
Aspen Dental dentists are skilled clinicians trained at some of the nation's most prestigious dental schools. The dentists at each of our offices possess a thorough knowledge of dental and denture procedures. And though their backgrounds are diverse, our dentists all share one common goal: to give each patient a healthy mouth.
It's our pledge to deliver great care—but also fair pricing. So you can trust that you'll get low, no-surprise pricing. And if your insurance pays less than what we quote, we'll cover the difference.