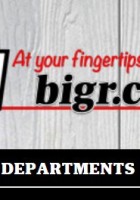 Own this business?
Stores on N Vermilion and S Georgetown Rd in Danville
Bill and Pat Crabtree originated the Illinois Big R Stores in 1964. The first store opened in Watseka, Illinois. To date 16 stores have been opened in central Illinois and northern Indiana.
We have 9 stores in Illinois including Watseka, Gibson City, Danville, Tilton, Pontiac, Morris, Washington, Rochelle, and Pekin. Our 7 Indiana stores include Warsaw, Wabash, Crawfordsville, Michigan City, Elkhart, Marion and Rochester.
The offices and warehouses for Big R remain in Watseka, IL. Joining the company in 1973, Jerry Gibbs now provides family leadership for the company. New generations of the Crabtree family continue to participate in the business.
Danville Big R Rental Center
217 South Bowman Avenue
Danville, Illinois 61832 US
217-442-7353
danville@bigr.com