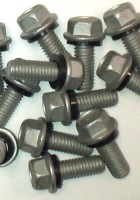 Own this business?
GRAIN BIN BOLTS.COM   BIN BOLTS .COM  DAVIS BROS. FARMS
We are farmers and bin builders, give us a call.
Davis Brother's One Stop Shopping for Grain Bin Bolts Since 1996
Always looking for quality used grain bins
Mike & Bob Davis, are located in Central Illinois. We have been supplying Bin Bolts and new and used Bin Equipment for more than eighteen years.
Hundreds of satisfied Farmers have come to rely on the Davis Brothers Bin Equipment from nuts to bolts and more.
Please call us for new & used equipment quotes, and for any other items not listed here on our website
WANTED TO BUY
Quality used grain bins to disassemble.
No Government bins.
217-474-8820
217-474-9180
We will ship any quantity or combination of items you need.