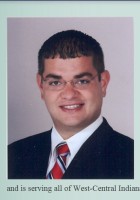 Own this business?
OFFICE LOCATIONS IN DANVILLE, ILLINOIS AND COVINGTON, INDIANA
Attorney Bradley C. Davis possesses a passion for helping people and providing high-quality legal services. Inherent in providing legal services is customer satisfaction – My goal is to exceed your expectations. I will vigorously fight for you. Bankruptcy, Civil, and Criminal. To learn more, please visit the Biographies section.
Contact me today for a confidential and free consultation. Let me shoulder your burden. Rest assured, Attorney Davis is determined to resolve your situation by achieving your desired outcome.
IF YOU ARE HAVING FINANCIAL DIFFICULTY PLEASE DO NOT DELAY IN CONTACTING MY OFFICE. THE CONSULTATION IS FREE AND CONFIDENTIAL. I WILL HELP YOU OBTAIN A FRESH START THAT IS FREE OF DEBT AND HARASSMENT.