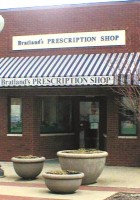 Own this business?
Bratland's Prescription Shop . Our downtown location has provided quality service to the Danville Area for more than 68 years as full service pharmacy, drug store and much more.
These pages will present just a sample of the quality items BPS has to offer. Just browse the pages at left to see our amazing selections of products.
We are a Danville Area Business that really DELIVERS in every way! Just a minimum $5 order, and we'll bring you your prescriptions, supplies, or even your groceries right to your door, while you shop from the comfort of your Danville area home, even as far away as Georgetown!
You can learn more about the BPS services & products by calling 442 2472 or stopping in at 8 East North Street. We have an entrance on Vermilion street also.
We look forward to seeing you soon!