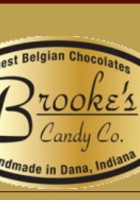 Own this business?
Brooke's Candy & Gift Store
You can order online and choose to pick up your order at the shop. Call in your order for pick up or shipping at 765-665-3646.
Brooke's Candy Co. was being formed long before Brooke knew it. As a teenager she made mints for her sister Dana's wedding shower, only to get an order from a neighbor for more. Brooke also sold out of her Peanut Butter Buckeyes at a local festival when she was 14.
She grew up, graduated, moved to Northern Illinois, joined the work force, and found her husband Doug. She always remembered her dream to own a candy shop one day.
In 2002, Brooke and her husband moved back to the area where she grew up. Brooke and her mother Donna and sister Dana made her dream come true by starting Brooke's Candy Co. in 2004. After many hours of research and trying many different chocolates, Brooke, Donna and Dana decided on a Belgian chocolate they knew would make their recipes irresistible. After finalizing recipes for their old-fashioned Almond Toffee, Fudge, Pecan Turtles, Mints and other goodies, they were ready to go.
Now they have a candy shop in a small rural town called Dana. People ask them why Dana? To them the answer is simple, they knew Dana was in trouble after loosing many buildings in the last 7 years like the grocery store, flower shop, auction house and more to fires and just being old and falling down. They wanted to bring something positive back to the community.