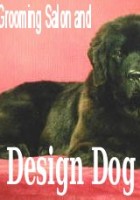 Own this business?
Welcome to Canine Design Grooming Salon and Dog Resort. We invite you to visit our new upscale grooming salon and Dog Resort in north Danville, Illinois. Our services include a hydro-massage and deep coat cleansing system, hand scissoring, pick-up and delivery service and much more.
We use all natural Shampoo and Conditioner Products. We have over 15 years of experience in the grooming business and we love to make your pet look and feel it's absolute best.
See Commercial News Article
We are also proud to announce that a 20 suite boarding facility is now open. Canine Design Dog Resort suites have a 6×7 sleep area with a 6×7 covered outdoor run, complete with soft beds to keep your dog warm & comfortable. Our facility is climate controlled, cool in the summer and warm in the winter. All boarding costs include individual play and/or group play, nature walks, morning and evening feedings as well as access to our pond.