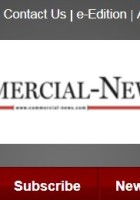 Own this business?
About Us
"A hog stampede occurred on Main street, last Sunday. A drove of about 300 were driven toward the railroad, when they took fright at an engine and ran back up Main street at their best speed. Some of them are perhaps still on the rampage."
These words appeared on the pages of the Danville Commercial on Dec. 24, 1868.
The Commercial-News and the city it covers have changed a lot since the days when bands of hogs roamed the streets. The transition has been a mutual one, with the paper's fortunes rising and falling along with those of the industries and residents of Danville.
R. H. Bryant established the Weekly Inquirer in 1832, just six years after the founding of Danville.