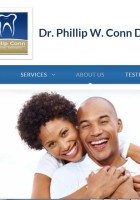 Own this business?
About Dr. Phillip W. Conn DDS
Originally from Hobart, Indiana, Dr. Conn graduated from Indiana University with a bachelor's of arts degree in 1973. He then earned his DDS from Indiana University, School of Dentistry in 1978. He graduated from the United States Dental Institute in orthodontics and orthopedics and the Rosenthal Institute of Cosmetic Dentistry. As a vested member of the dental community, Dr. Conn participates in the American Dental Association, the American Academy of Cosmetic Dentistry, the Illinois State Dental Society, the Academy of General Dentistry and the Danville District Dental Society. The Commercial News Peoples Choice Award was presented to Dr. Conn for "Best Dentist 2004."
After hours, Dr. Conn spends time with his wife, Kandis her daughter Jennifer and his daughters, Stacy, Leanne and Holly. If not worshiping or serving in his church, he also likes fishing, hunting, gardening, and investing in the stock market.