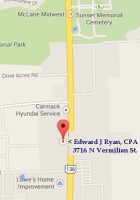 Own this business?
Tax Planning – Best before December 31st
The best way to save tax dollars on April 15th is tax planning before the previous year end.
Both planning a year-end tax game plan in October, November, and December, as well as systematic tax planning during the year before December 31st can reduce your tax liability and avoid surprises come April 15th.
Call me to schedule a tax planning appointment.
Member of the American Institute of Certified Public Accountants and the Illinois CPA Society
3716 North Vermilion Street | Suite D | Danville, Illinois 61832