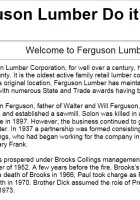 Own this business?
Welcome to Ferguson Lumber Do it Best
——————————————————————————–
The Ferguson Lumber Corporation, for well over a century, has been one of the leading businesses in Parke County. It is the oldest active family retail lumber company operating in the state of Indiana. In its original location, Ferguson Lumber has maintained its family roots, now in its fifth generation, with numerous State and Trade awards having been bestowed.
In 1868 Solon Ferguson, father of Walter and Will Ferguson, moved to Rockville from East St. Louis, Illinois and established a sawmill. Solon was killed in a boiler explosion and destruction of the mill by fire in 1897. However, the business continued to grow through the efforts of his sons, Will and Walter. In 1937 a partnership was formed consisting of Will and Walter Ferguson and Brooks Collings, who had began working for the company in 1910 following his marriage to Will's daughter, Mary Frank.
The business prospered under Brooks Collings management and survived another disastrous fire in the summer of 1952. A few years before the fire, Brooks's sons Paul and Dick joined the firm. Following the death of Brooks in 1966, Paul took charge as President and led the company until his untimely death in 1970. Brother Dick assumed the role of President and his son Joe joined the company in 1973.