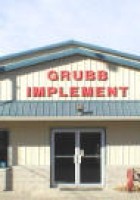 Own this business?
For more than 73 years Grubb Implement has provided high quality products and services to our Illiana Area.
We are an Authorized Tractors, Kybota – Agriculture & Utility Landscape Dealer.
Products Available at Grubb Implement Dealership Location on our website
Grubb Implement Store, Incorporated was founded by King Edward (K.E.) Grubb almost three-quarters of a century ago.