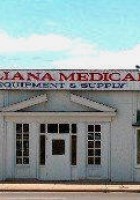 Own this business?
Since 1846 "Still One of a Kind "
Gulick's Illiana Medical Equipment and Supply, provides comprehensive services for the convalescent or disabled patients that require the use of hospital equipment at home.
As part of Gulick's Illiana Medical Equipment & Supply's complete service program, a Credentialed Respiratory Therapist assists patients in selecting proper respiratory equipment and scheduling home respiratory therapy visits.
Also included in the program are periodical maintenance, safety checks, supplies, and educational instructions and delivery. A 24 hour emergency service is provided for oxygen patients.