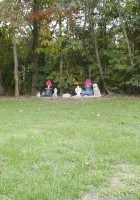 Own this business?
Our private Heavenly Paws Memorial Park is a large open meadow surrounded by beautiful wooded areas. We provide permanent shaded interment sites* for your beloved pet at very reasonable costs. On our acreage in the northern Danville area, adjacent to our beautiful Kennels and Grooming sites, are three acres permanently set aside for interment of your dearly loved pets.
The grounds are open year round from early morning to sunset, the park is well maintained, and all grave and ash burial sites, with your memorial markers, are easily accessible for visits.
SERVICES:
Fees vary according to size of grave needed. We open all graves and inter your pet before any memorial event you may desire. We also offer small interment areas for cremated pet's ashes. We then place a small concrete marker on their burial site.
If you desire; special custom markers or