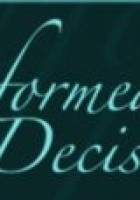 Own this business?
Informed Decisions is a privately owned professional consulting service designed to provide objective, one on one help. Informed Decisions can provide the answers you need so that you can make a confident choice for your loved one's care.
Jane Huchel, owner of Informed Decisions, has been in every local nursing home many times over the last 25 years and is very familiar with each of them. She has worked on the regulatory side of Long Term Care dealing with all requirements of state and federal government.
Following her ten years with the Illinois Department of Public Health, she continued to consult with local facilities, dealing with all facets of individual care. She truly respects every facility for the hard work they provide for each individual.
Jane has the knowledge and experience with each home to be able to provide you with professional, objective, and independent information. She has a very friendly, professional, and well-respected relationship with each facility.
Jane has no agreements or financial incentives with any health care facilitiy and will be working only in the best interest of you.