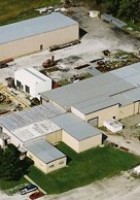 Own this business?
Custom Steel Fabrication
Quality Work from an Experienced Team
JAMESON STEEL FABRICATION is a structural and miscellaneous steel fabrication business operating in East-Central Illinois since 1974. We have over 30 years of experience in all types of steel fabrication.
Our large customer base ranges from local businesses to international companies.
Jameson Steel provides project cost estimating, shop drawings, fabrication and final painting.