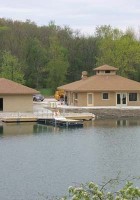 Own this business?
Kickapoo Landing in Kickapoo State Park
Canoe and Kayak Trips
Tube Trips
Paddling on Clear Lake
Bait and Tackle
Dockside Cafe
Kickapoo Canoers Enjoy the scenic beauty of Kickapoo State Park, the Middle Fork River and the Middle Fork State Fish and Wildlife Area.
See woods, meadows, bluffs and wildlife. Paddle the rivers and lakes in our top quality Old Town canoes, a kayak or paddleboat. We have 8-mile and 13-mile canoe and kayak trips, a two-mile tube trip and a unique Lake/River Combo as well as paddling by the hour from our dock on Clear Lake.
Our Dockside Café offers you dining by the lake and features dinner specials every weekend.
We have fishing and camping supplies to make your visit to Kickapoo State Park more enjoyable.
Quality Equipment — Our Old Town Polylink3 canoes are quiet and glide over rocks and through the shallows. No metal glare, hot seats or clanging of aluminum canoes.
You'll find us in Kickapoo State Park near Oakwood, Illinois. Just take the Oakwood exit from Interstate 74 (Exit 206) and follow the brown signs into the Park!
For more information and reservations please call 217-446-8399
For camping information, call Kickapoo State Park 217-442-4915