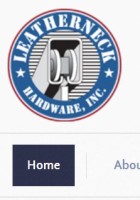 Own this business?
Company Overview
Leatherneck Hardware, Inc. has been in business since 1977. From the beginning, our goal has been to continually improve the design and manufacture of hardware components for Aircraft Hangar Doors and Heavy-Duty Industrial Sliding and Rolling Doors. We have grown from a small component supplier to the highly specialized company we are today which includes the stylized line of Coburn Sliding Systems.
Our Products
Our products are used widely by many of the leading Specialty Door Manufacturers and Building Manufacturers worldwide. We manufacture a standard line of door hardware, but also specialize in custom design orders. Whether new construction, repair or retrofit, Leatherneck Hardware has a long history of creative solutions to any door hardware project. Our Sliding Door Hardware is second to none in the industry.
We custom design and fabricate hardware to suit your individual applications.
We pride ourselves on our fast turnaround not only for stock items but for custom items as well.