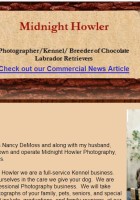 Own this business?
Welcome to the Midnight Howler Kennel & Photography
We are a 24/7/365 business. You can drop off your dog(s) any time day or night even on holidays. We don't raise our prices because it's a weekend or holiday, you just need to call us and let us know what time is convenient for YOU. Our moto is "Treating your pets like they're our own", and we love our pets. There are very few times someone is not here, but, always someone here at night. We have night lights, motion dectectors and cameras set up to keep your pets and mine safe. Please be sure to bring current health papers showing that their yearly shots are up to date; this includes kennel cough.
Since we began our business we have been continuing to learn everything we can about dogs, running a kennel and professional photography. You can never know enough, but attending college courses, reading all the literature we can find, and our continuous experience, we are confident that we can provide affordable and quality services to our community.