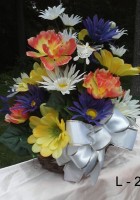 Own this business?
You know how exciting it is to get a new, COLORFUL Floral Arrangement? And you display it in a place of prominence in your living room or dining room? And then, after time, it goes into a back bedroom? And from there it goes to your garage? And from there, it goes into a yard sale, where you gladly sell it for $1.00?
Well, WE are here to interrupt this chain of events!!
How would you like to have a NEW, DIFFERENT
Floral Arrangement EACH MONTH
Delivered right to your home or business?
At an AFFORDABLE RATE? WELL NOW YOU CAN!!
For ONLY $15.00 each (per month), you can choose a BEAUTIFUL FLORAL ARRANGEMENT from our inventory of breathtaking, colorful creations. You may want to display it in your home, in a common area of your office, or for a temporary, business "prop." There are COUNTLESS uses for our rentals!
And then, at the end of 30 days (from the time you received the Arrangement), if you WANT to, we will REPLACE it, at the same low rate of $15.00 each, for another selection from our inventory. If you do not wish to rent another selection, that is up to you. We cater to YOUR needs, not ours.
Arrangements must be paid for when they are delivered.
Of course, if you want to KEEP the arrangement (instead of returning it), just pay only $15.00 more – and it is YOURS!
Email: