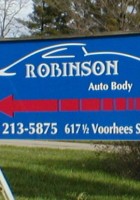 Own this business?
You are invited to visit our new "State of the Art" Auto Body & Paint Shop located in Danville just north of Voorhees Street behind the Watchfire building.
Turn in at our sign on Voorhees, north to the Danville Mini Warehouse and dogleg right all the way back to our new shop.
Owner Rich Robinson has more than 18 years experience in Vehicle body work, painting, engine repair & overhaul, and all general automotive repairs.
We provide complete auto body repair or body restoration and new paint to touch ups, including major engine repairs, restorations and parts replacement from radiators to headlights.