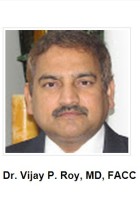 Own this business?
Dr. Vijay P. Roy, MD, FACC
With more than 15 years of experience in Cardiology practice, he is board certified in Cardiology and Cardiology related other modalities.
We have experience in performing stress studies, all types of echocardiograms, Trans-esophageal echocardiograms (TEE), electrical cardioversion, right and left heart catheterization, with coronary angiogram.
We can also arrange holter monitor study, cardiac event monitor, and other studies.