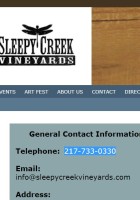 Own this business?
A Little About Sleepy Creek
Wine country in east central Illinois? Sure, why not! At least that's what Joe and Dawn Taylor said when starting second careers in the Illinois wine industry. Joe, having been self-employed most of his life, wanted to start something new and Dawn, having always worked for someone else was ready to try something new too. The result? Sleepy Creek Vineyards!
Joe and Dawn started the vineyard in 2002 and opened the winery in 2007. Growing 10 acres of grapes is hard but rewarding work, especially when the efforts result in a enjoyable glass of wine. We employ about 10 people and rely on numerous volunteers to help us get everything done. Your Sleepy Creek staff is friendly, helpful and always ready to serve you! If you are interested in employment at Sleepy Creek, email a cover letter and resume to info@sleepycreekvineyards.com.