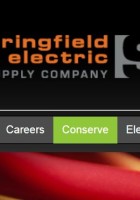 Own this business?
Helping You Get the Job Done
We learned early on that the integrity of our people and the quality of their work drives our success. While our parts counters, warehouses, and delivery trucks keeps your facilities, cribs, and works crews fully stocked with the supplies you need; our field sales, technical specialists, and customer service representatives keeps your electricians, engineers, and maintenance crews informed and educated.
And, as always, our 24-hour Emergency Service is here for you. Day or night, if you're faced with an emergency, our Customer Service Emergency contact list will put you in touch with Springfield Electric representatives that will do whatever they can to provide your needed products or service in short order. Contact your nearest Springfield Electric branch for an emergency contact directory.