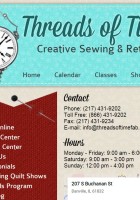 Own this business?
The Real Story of Us Bill & Missi
What happens when a contractor of more than thirty years and a long-time English professor decide they want to start new careers? You get a new business named Threads of Time Creative Sewing and Retreat Center.
After a year and a half of researching quilt shops, Bill and Missi Gouty decided to open up a destination-style fabric store. One property after another was investigated and rejected because the size or location just wasn't right, until one day Bill came home and said he had found the perfect spot, an old, abandoned International Nursing Home. After her initial "are you crazy?" comment, Missi saw the same vision as her husband, and they began a complete remodel of the old building. The building was purchased on August 1, 2006, and the store opened on November 1, 2006.
Missi and Bill had already built two houses together, and renovation was just another "day-in-the-life-of-the-Goutys." The hard part was learning about the fabric industry, and stocking inventory for the large store, but they learned quickly and soon had a fully functioning store.