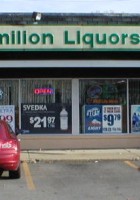 Own this business?
Vermilion Liquors.
We offer a large selection of Beers and Liquors at our location on North Vermilion. We are open 7 days a week, including Holidays!
SEE OUR CURRENT SPECIALS ONLINE
Vermilion Liquors is known for their fine selection of Wines. Your are invited to browse through our selection at our store. See slides below with more information about us…
Vermilion Liquors maintains a good selection of exciting wines of all styles from all corners of the world. Choose from the finest vineyards of France, California, Germany, Australia, and Italy to the lesser known developing areas of Chile, Argentina, and South Africa. New vineyards and new wines are emerging daily from all parts of the world. Choose from reds, whites, sweet, dry, fortified, sparkling, and everything in between. Come join us in the wonderful world of wine and experience the many tastes of the world.