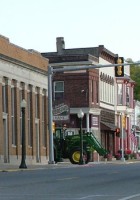 Own this business?
Rossville is located at the intersection of Illinois Route 1 and County Road 14 (Attica Street), about 6 miles south of Hoopeston and about 12 miles north of the county seat of Danville. Click on the Google map at right for location.
Area attractions include the Rossville Historical Society Museum, the Rossville Railroad Depot Museum, Christman Park, and the Hubbard Trail Monument. Many Antiques and Specialty shops.
South of Rossville are Historic Mann's Chapel (1857) and an original State Road Mile Marker from 1833
A railroad operated daily by CSX Transportation passes through the east side of town. Our Rail Road Museum is along the tracks at our early depot.